From the Desk of Chairman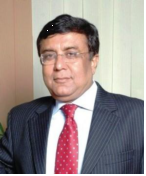 CHAIRMAN SPEAKS
Dear Members
In my last column I had mentioned about the export performance trends, challenges faced and strategy to be adopted to achieve export growth.
As you all know, we need to undertake aggressive marketing efforts when the market trends are showing downturn and should not be cowed down by the current decreasing trends in exports. This is why CLE is continuing with its aggressive marketing promotion efforts both in traditional and potential markets.
I thank the members of CLE for their wholehearted efforts for the marketing efforts of CLE by way of their large scale participation in our events. We have organized the participation of 10 member exporters in the recently held Sourcing at Magic event in Las Vegas on self- financing basis. We are also organizing the participation of member
exporters in the All China Leather Exhibition at Shanghai during Aug. 29- 31, 2018.
We are focusing on the Russia market in a big way. CLE is organizing large scale participation of 48 members in the Mosshoes-Mospel Fair scheduled to be held at Moscow during Sep 10-13 2018 with support from the Market Access Initiative Scheme of the Ministry of Commerce & Industry, Govt. of India. India's export of leather & leather products to Russia has increased from US$ 28.63 million in 2012-13 to US$ 56.08 million in 2017-18, growing at a CAGR of 14.39% in the last five years. There is scope to significantly increase our exports to Russia.
In order to provide a platform to members, particularly to the small and medium enterprises, CLE is organizing the Delhi International Leather Expo – The Reverse Buyer Seller Meet in New Delhi during Sept. 28-29, 2018 with assistance under MAIS programme of Dept. of Commerce. Over 65 Indian companies and about 50 Buyers from about 20 plus countries from Europe, Africa, ASEAN, CIS, and MEA and also representatives of Buying Houses in India are expected to take part in this event.
CLE is organizing a Buyer Seller Meet in Chile during Oct. 23-24, 2018. In November 2018, CLE is organizing participation of members in the Leathertech Fair in Dhaka, Bangladesh and is also organizing BSM during Footwear & Leather Show in Melbourne, Australia.
As in the past, CLE will be organizing the Designers Fair at Chennai during Feb. 1-3, 2019 with the participation of more than 40 designers. As design development is crucial to moving-up the value chain, I would urge all members to visit this fair in large numbers and benefit from the expertise of the designers.
I hope that our marketing efforts will not only help in promoting the country brand image of India as a leading supplier of high quality goods but will also lead to earning the goodwill of the buyers which augurs well for the industry.
World Footwear Production
The Portuguese Footwear Association (APiCCAPS) has informed that after two years of stabilization, the worldwide footwear production resumed growth in 2017 reaching 23.5 billion pairs, 2% more than in the previous yea, although this is still far from the fast growth pace registered between 2010 and 2014 (+15.4%),
APICCAPS has further stated that production continues to be heavily concentrated in Asia where 87% of all pairs of
footwear are manufactured. The highlight is that in 2017 India overtook the USA as the second largest consumer of footwear: a milestone in Asia's ascent to prominence in the world market, reflecting strong demographic and economic trends. This is a good news for us as this reflects the huge potential for growth of the footwear segment both on the domestic front and on exports. I am sure that our footwear manufacturers and exports will tap this potential and achieve significant growth in the coming years.
With best wishes
Mukhtarul Amin
Chairman
COUNCIL FOR LEATHER EXPORTS