From the Desk of Chairman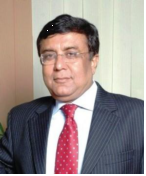 CHAIRMAN SPEAKS
Dear Members
Export Performance
According to provisional DGCI & S data, exports from leather industry have shown a positive growth of 1.81% in Dollar Terms during April 2017 – January 2018 (increase from a value of USD 4782.63 million in April 2016 – January 2017 to USD 4869.33 million in April 2017 – January 2018). Exports from leather sector have been registering an increasing trend in the past couple of months which is a good sign. This has given us the confidence that we will be able to achieve high export growth levels in coming years.
Marketing Events 2018-19
At the outset, I wish to thank the Department of Commerce, Ministry of Commerce and Industry, Govt. of India for approving support under Market Access Initiative Scheme (MAIS) for 13 marketing events of CLE during 2018-19. The programmes proposed include Buyer Seller Meet in USA, Reverse Buyer Seller Meet in India, continuation of participation in Mos Shoes Fair in Russia etc., The circulars for individual events will be sent to member exporters. I would urge members to participate in all marketing events of CLE in large numbers and benefit.
Creation of new production centres
One of the focus areas under India Footwear, Leather and Accessories Development Programme (IFLADP) notified recently for leather industry is creation of Mega Leather, Footwear and Accessories Development Clusters (MLFAC). Besides helping in enhancing production, MLFACs will also help in utilization of other schemes of IFLADP like Integrated Development of Leather Sector (IDLS) and HRD Schemes by the new production units coming-up in MLFACs. I hope that the land identification issues for the proposed MLFACs will be firmed-up soon so that the Ministry of Commerce and Industry can be approached for approval and sanction of assistance.
Marketing event in Iran
As part of our efforts to penetrate in to potential markets, CLE is organizing a Buyer Seller Meet and visit of Sourcing in Iran during April 22-25 2018. Besides meeting buyers, we also plan to visit tanneries/production units and meeting with leather industry associations of Iran during this visit. I hope that this event will help in taking our trade relationships with Iran to a new higher level.
With best wishes
Mukhtarul Amin
Chairman
COUNCIL FOR LEATHER EXPORTS