From the Desk of Chairman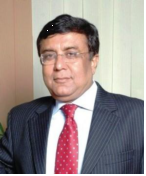 CHAIRMAN SPEAKS
Dear Members
Export Performance
As per the latest DGCI & S data , the export of leather, leather products and footwear from the country during April 2016 – January 2017 was to the tune of USD 4723.29 million, as against the value of USD 4959.54 million during April 2015 – January 2016, registering a decline of 4.76%. As you are aware, the exports from leather sector showed a decline of 9.87% in dollar terms during 2015-16. During this year, we have been able to not only contain the decline to a great extent but also achieve positive growth in exports in respect of non-leather footwear and footwear  components. The revival of exports indicate that the industry may be able to end 2016-17 with a slight overall positive growth but our aim is to achieve the envisaged export level of USD 9.50 billion by 2019-20, from the level of USD 5.85 billion achieved during 2015-16.
Marketing efforts
CLE is continuing its aggressive marketing efforts in identified potential markets. During 2016-17, out of 16 approved marketing events under MDA and MAI, 10 events were held in potential markets namely Uzbekistan, Vietnam, Poland, China, Bangladesh, Japan, Australia, Hong Kong, Sri Lanka and South Africa. In the meantime, CLE also continued organizing large events in traditional markets of USA and Europe through participation in fairs like Magic Show (USA), Expo Riva Schuh (Garda, Italy) and also organization of large India Shows in Germany and Spain. On account of the vigorous marketing measures, the exports to potential markets have registered increase during April – Nov. 2016. The increase in exports registered are to Russia (12.65% growth), Canada ( 1.65% growth), Japan (4.99% growth), China ( 10.46% growth), Singapore (96.29% growth) , Saudi Arabia ( 10.47% growth), Poland ( 72.07% growth), Bangladesh (92.05% growth), Thailand ( 24.32% growth), Kenya (101.20% growth) and Sri Lanka ( 23.73% growth) .
In line with the growth registered in respect of potential markets, CLE has identified African countries, Russia, LAC,
Korea , East Europe as major potential markets. Accordingly, we will firm-up marketing activities for these regions
which include proposed trade delegation to East Europe, Reverse BSM with buyers from Africa, participation in MOS SHOES Fair in Russia and Busan Intl. Shoe Show in Korea, etc,. Further, we have also proposed to continue our participation in fairs in potential markets which include Poznan Fair for Leather, Footwear, Leather Goods & Garments, Sep 17 ; All China Leather Fair, Sep 2017 for Finished Leather Sep 17 ; Fashion Access Fair for Leather Garments, Goods & Footwear, Hong Kong , Sep 17; Leathertech Bangladesh, for Finished Leathers, Footwear Components- Nov. 2017 ; Pakistan Mega Leather Show, Jan 27-29, 2018 for Finished Leathers, Footwear Components and Footwear & Leather Fair, February 2-4, 2018, Sri Lanka for Finished Leathers, Footwear Components.
Besides, out of the 15 marketing events proposed under MAIS during 2017-18, 7 events are to be held in potential
markets. These events include BSM in Brazil and Chile ( July 2017) ; participation in exhibitions namely Shoes &
Leather Fair Ho Chi Minh City, Vietnam, July 17-19, 2017; Fashion World Tokyo Fair, Japan, October 11-13, 2017 ;
Footwear & Leather Show, Sydney, Australia, November 15-17, 2017 ; Fashion Access Fair, Hong Kong, March 14-16, 2018; MM&T – Materials Manufacturing & Technology fair, Hong Kong, March 29-31, 2018 and BSM in South Africa.
Penetration in US market
USA is the largest importer of leather, leather product and footwear with an import value of USD 33.74 billion, out of the global import value of USD 187.67 billion in 2014, having a share of about 18%. This offers tremendous scope for significantly enhancing our market share in the large US market.
Considering this, CLE has engaged two separate consultants in USA, one for leather goods and garments and one for footwear, to undertake direct buyer outreach in USA.
It may be mentioned that export of leather, leather products and footwear from India to USA increased from USD
578.11 million in April – Nov. 2015 to USD 605.01 million in Apr – Nov. 2016, growing by 4.65%, despite the overall
reduction in exports from the Indian leather sector to the tune of 4.48% during April – Nov 2016.
With our continuous engagement with the US buyers, we are sure that we will be able to further increase our market share in USA in the coming years.
With best wishes
Mukhtarul Amin
Chairman
COUNCIL FOR LEATHER EXPORTS