From the Desk of Chairman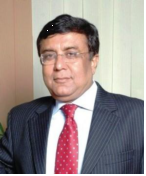 CHAIRMAN SPEAKS
Dear Members
Exports under GT regime
The leather industry is making best efforts to consolidate and expand its market share, both in traditional and potential markets. Despite the downturn in exports in the last two years, we have been able to achieve positive export growth during 2016-17 in markets
like USA, Russia, Denmark, Sweden, Austria, Belgium, Japan, Portugal, China and Poland. This has given us the confidence that we will be able to achieve 10% export growth in the next three years and reach an export value of USD 7.5 billion from the current USD
5.66 billion.
As already mentioned in this column, the leather industry wholeheartedly welcomes GST. However, the industry is facing financial burden and significant outflow of capital on account of levy of higher GST rates on major segments of the manufacturing chain and on account of levy of GST on duty exemption schemes like MEIS, EPCG, Advance Authorisation and Duty Free Import Scheme (DFIS)
Further, the full rate of Duty Drawback is now available only for three months from July 2017 to September 2017, after which the DBK may be restricted only to Customs portion while the GST has to be paid upfront and then refund claimed. Upfront payment of GST and delayed refunds not only increases the transaction costs of the exporters, but also threatens to wipe out the small and medium exporters in leather sector who do not have the resources for generating significant money for GST payment.
Hence, in order to achieve positive growth in exports, the industry needs handholding from the Government and consideration. In this connection, we have submitted several memorandums to the Government requesting reduction of GST rates on several items and additional support measures under Foreign Trade Policy, Duty Free Import Scheme, Drawback and Rate of State Levies (ROSL) Scheme.
We hope that the Government will positively consider our requests to enable positive growth in exports from the leather sector.
Special Package for Leather Industry
You are kindly aware that the Hon'ble Finance Minister had announced a special package for the leather industry in the Union Budget 2017-18 speech. The industry is eagerly awaiting the notification of special package i.e. continuation of Indian Leather Development Programme (ILDP) containing several developmental projects on HRD, technology upgradation, environment management etc, .
I sincerely hope that the ILDP will be playing a crucial role in major areas like a) enhancing the utilization of tanning capacity in the country from the present 60% to 100% through CETP upgradation b) providing skilled manpower of about 1.5 lakh per annum c) establishment of additional production centres in the form of Mega Leather Clusters etc.,
With best wishes
Mukhtarul Amin
Chairman
COUNCIL FOR LEATHER EXPORTS