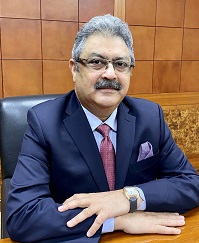 Chairman Column
As you all know, we have seen two major announcements recently. One is the announcement of support measures to the leather industry in Union Budget 2022-23 and the other is announcement of Indian Footwear and Leather Development Programme (IFLDP)
Union Budget 2022-23
The Union budget has announced major support measures for the leather and footwear industry which will provide a fillip to the growth of exports from the  industry
The import duty exemption for import of notified embellishments/inputs by bonafide exporters for manufacture of leather garments, footwear and leather products is a major support which will reduce the cost of import of critical inputs /embellishments being imported as per requirements of overseas buyers and will promote the export of value added products from the country.  We have taken-up the request of extending this duty free scheme to finished leather exporters also, including crust and finished leather and also certain other inputs in the scheme.  Besides, we have also taken-up the request for continuing the import duty exemption for effluent treatment machinery and for continuation of the 5% concessional duty for machinery used in leather and footwear industry.
Extension of date for commencement of manufacturing operations for newly incorporated domestic manufacturing companies from 31st March 2023 to 31st March 2024 for availing concessional corporate tax of 15 per cent will help in attracting  investments in our sector. Extension of ECLGS scheme will enable MSMEs to get additional credit at concessional interest rates  Launching Ease of Doing Business 2.0 and also SEZ reforms will enhance domestic manufacturing.
IFLDP
On behalf of leather, leather products and footwear industry, I would like to wholeheartedly thank the Government  for announcing the Indian Footwear and Leather Development Programme (IFLDP) with an outlay of Rs.1700 crore, for implementation during 2021-22 to 2025-26.
At a time when the entire world is looking at India as a reliable and major supplier of value added products and at a time when the Indian leather and footwear industry is looking to significantly enhance its production and exports through optimum utilization of the emerging business opportunities, the IFLDP has come as a major support measure, which will catalyze the growth prospects of the industry in the Amrit Kaal.
The IFLDP will play a crucial role in the overall development of leather and footwear industry in critical areas namely capacity expansion and technological upgradation of production units, brand promotion, design development, creation of new production clusters, environment management etc., leading to generation of additional employment opportunities.
The leather and footwear industry is looking to expand its export turnover from USD 5.09 billion in 2019-20 to USD 10 billion by 2025-26 and the domestic industry turnover from USD 12 billion in 2019-20 to USD 20 billion by 2025- 26. The announcements made in the Union Budget 2022-23 and the IFLDP scheme will immensely help in achieving these targets.
With best wishes
Sanjay Leekha
Chairman
COUNCIL FOR LEATHER EXPORTS