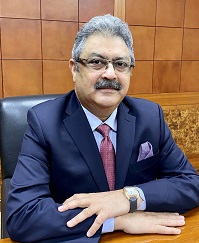 Chairman Column
You are all aware that with the active support of the Government, the footwear and leather industry in the country has been able to achieve significant progress in the core areas of production, skill development and environment management. Two successive flagship programmes of Ministry of Commerce & Industry namely Indian Leather Development Programme (ILDP – 2012-17) and Indian Footwear, Leather & Accessories Development Programme (IFLADP – 2017-21) have played a vital role in extensive modernization and expansion of  production units, upgradation of CETPs, skill development of workers and also creation of institutional facilities.
You are also aware that the Department for Promotion of Industry and Internal Trad (DPIIT), Ministry of Commerce & Industry, Government of India is implementing the 3rd successive flagship programme the Indian Footwear and Leather Development Programme (IFLDP : 2021-26) with an outlay of Rs.1700 crore. I am sure that IFLDP will take us to newer heights in manufacturing and exports in the coming years.
I am happy to inform that there has been overwhelming response from the industry in utilizing the IFLDP Scheme. Within 4 months of opening of the online portal, applications involving investment to the tune of Rs. 3699.44 crore and grant of Rs1595.78 crore have been submitted in the portal. Thus, we have received applications covering 94% of the scheme outlay. This is a great achievement, as we have been able to receive such huge response in the very first year of implementation itself.  This shows the commitment from the industry for long term growth.
The recent developments in the global trade have definitely opened-up a window of opportunities for us. Our exports have registered very good growth this year, growing by  more than 19% i.e.. from USD 3 billion in April – Nov. 2021 to USD 3.66 billion in April – Nov. 2022. Despite the recessionary trends prevailing now in the global market, we are confident of surpassing the export target of USD 5.54 billion this year i.e. 2022-23.
With best wishes,
Sanjay Leekha
Chairman
COUNCIL FOR LEATHER EXPORTS