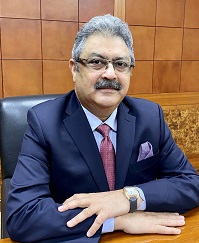 Chairman Column
I would like to inform you that the Ministry of Commerce and Industry has set an export target of USD 400 billion for merchandise exports during this year i.e.2021-22. Out of this, the target fixed for leather industry is USD 5.89 billion.  In fact, the Department of Commerce has fixed country-wise targets to be achieved this year.
In this context, Hon'ble Prime Minister Shri Narendra Modi Interacted with Heads of Indian Missions abroad and Stakeholders of the Trade & Commerce Sector on August 6, 2021 on export growth and development in which CLE too participated. The Hon'ble Prime Minister stressed the importance of enhancing the exports.
You are kindly aware that on account of the adverse impact of the Pandemic, the export of leather, leather products and footwear during 2020-21 was USD 3.68 billion, registering a decline of 27.72% when compared to the export value of USD 5.09 billion in 2019-20.  Hence, in order to achieve the export target of USD 5.89 billion, we need to achieve 60% growth in exports when compared to 2020-21 and 15.72% growth when compared to 2019-20.
In this context, I would like to state that the exports during the first quarter of this year i.e. April – June 2021 registered an impressive 141.56% growth when compared to the same period last year, as per initial trade data available. Going by the positive export trends this year and also the huge opportunities available for us, I am sure that we are in a better position to achieve the export target of USD 5.89 billion this year.
CLE will undertake aggressive marketing efforts to ensure maximum buyer outreach. During this year, we have planned more than 30 marketing events, which includes virtual B 2 B events too.  Besides, we will organize webinars with various overseas industry associations to understand the market trends and prospects. Further, K (Knowledge)-Series webinars have been planned on various topics. In July 2021, webinars on MSME Services of Yes Bank; Forex Trading Platform; Online Banking Services, Online Trading Services etc., were held and more such webinars have been planned.
We also need to explore innovative options like e-commerce to enhance our exports.
On the whole, we have to undertake maximum efforts to reach our export target of USD 5.89 billion during 2021-22, which I am sure we will be able to achieve.
With best wishes
Sanjay Leekha
Chairman
COUNCIL FOR LEATHER EXPORTS