From the Desk of Chairman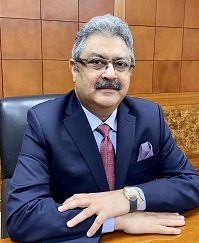 Chairman Column
Greetings to all of you !
I have taken charge as Chairman of Council for Leather Exports in the 168th meeting of Committee of Administration (COA) of CLE held on June 17, 2021 through Virtual mode.
First of all, I would like to express my sincere thanks and gratitude to our immediate past Chairman Shri P.R. Aqeel Ahmed for advice and guidance to me. Shri Aqeel Ahmed will be remembered for ever for his hard work and dedication for the development of the leather industry.
After a prolonged period of market slowdown caused by the Covid 19 Pandemic which led to 27.72% decline in our exports during 2020-21, we are back on the growth track with exports from our sector showing impressive resurgence during 2021-22. As per data received from Dept. of Commerce, export of leather, leather products and footwear increased from USD 146.79 million in April – May 2020 to USD 641.72 million in April – May 2021, registering 337.17% growth. This is a very good beginning for us, which we hope to sustain in the coming months.
The Pandemic has ushered in or rather intensified the digital era. With increasing prominence of e-commerce platforms and also virtual exhibitions, we must ensure optimum utilisation of the various available digital modes to gain further market access. CLE has organised several virtual marketing events during 2020-21 and has planned more events this year too.
We already have the inherent strengths of traditional knowledge and strong raw material base. With the support of the Government, concerted efforts have been taken in the past years to substantially increase our capabilities in the core areas of capacity expansion, modernization & technological up-gradation of production units, Skill Development, Environment Management etc., which has helped us in becoming a leading exporter of high quality value added products.
With increased focus on design, productivity, eco-sustainability and price competitiveness, we will be able to scale new heights in the coming years.
I look forward to working closely with all stakeholders in the industry including all product segments and institutions so as to achieve overall growth and development.
As we look forward to good growth in exports this year, I would like to convey my best wishes to all my fellow exporters for success in all your endeavours.
With kind regards
Sanjay Leekha
Chairman
COUNCIL FOR LEATHER EXPORTS