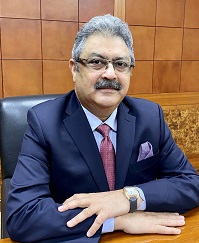 Chairman Column
Export of Leather, Leather products and Footwear for the period April-June 2023-24 touched US$ 1200.93 million as against the performance of US$ 1388.56 million in April-June 2022-23, recording a decline of -13.51%.  The persisting global market slowdown is a cause of concern, but I am sure that our exports will return to the growth trajectory soon.  Going by the current trends, exports from our sector during 2022-23 are expected to be in the range of USD 5.4 to USD 5.6 billion, as against the export performance of USD 5.26 billion during 2022-23.
As you are all aware, USA Is now the largest importing county for Indian footwear and leather sector. Removal of US GSP for leather products has affected our exports to the tune of USD 450 million per annum. As the US Congress is now reviewing reinstatement of the US GSP programme (which expired in Dec. 2020), we have taken-up the request of reinstatement of US GSP for India with the Government.
The European Union Regulation (2013/115) of May 31, 2023 on Deforestation and Forest Degradation free supply chain will come into force from December 30, 2024 (for micro enterprises from June 30, 2024). As per this regulation,  Relevant Commodities and relevant products shall not be placed or made available on the market or exported, unless all the following conditions are fulfilled
They are de-forestation fee
They have been produced in accordance with relevant legislation of the country of production and
They are covered by a due diligence statement.
Also, the companies placing products in the EU market have maintain geo location of products sold in the EU market.  This will be a major non tariff barrier, which will significantly increase the cost of compliance, as it involves the entire supply chain of the leather sector . Hence, we are taking up this issue with the Government of India, for suitably taking-up with the EU Side for dropping this regulation and instead bringing in mechanisms to prevent de-forestation.
With best wishes
Sanjay Leekha
Chairman
COUNCIL FOR LEATHER EXPORTS