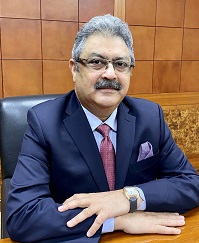 Chairman Column
Dear Member
You are aware that the Government of India has implemented the Production Linked Incentive Scheme (PLI) for certain sectors. The Council for Leather Exports has also submitted a detailed proposal to the Government seeking PLI for footwear and leather sectors.  This proposal has been drawn-up based on extensive consultations with stakeholders and investment commitments received from members of CLE.
During our meetings with the Government, we have highlighted the huge emerging business opportunities for our industry which have presented immense prospects for achieving significant growth in production and exports the coming years.  Many overseas companies are now looking to invest in India and set-up their manufacturing facilities. Considering this, our  industry is aiming at reaching a turnover of USD 30 billion (including domestic turnover of USD 20 billion and export turnover of USD 10 billion ) by 2025-26.
In order to ensure optimum utilization of the emerging business opportunities and achieve the envisaged turnover levels, the industry has to structurally transform itself by undertaking significant scaling-up initiatives, for which huge investments are required.  In order to attract investments and to prop-up the production and exports significantly and also to generate additional employment opportunities, there is an urgent need to extend Production Linked  Incentive Scheme (PLI) to our sector.
I hope that the Government will favourably consider our proposal and extend the PLI scheme to our sector.
As you are kindly aware, export of leather, leather products and footwear had reduced from USD 5.09 billion in 2019-20 to USD 3.78 billion in 2020-21, on account of the adverse impact of COVID. Exports had revived significantly during 2021-22, reaching about USD 5 billion. The growth momentum in exports is continuing this year also, with exports from our sector registering about 45%  growth during April – June 2022.
The Ministry of Commerce and Industry had fixed an export target of USD 5.54 billion for our industry for the year 2022-23.  Going by the current export growth and the emerging business opportunities for our country, we are sure that we will be able to surpass the export value of USD 6 billion this year. However, this requires concerted efforts from all of us i.e. from all regions across the country. You may recall that our sector had achieved the highest export value of USD 6.5 billion during 2014-15.  Hence, our industry is vary much capable of achieving higher growth levels.  I would hence seek the support and co-operation of all members in surpassing the USD 6 billion exports this year.
With best wishes
Sanjay Leekha
Chairman
COUNCIL FOR LEATHER EXPORTS